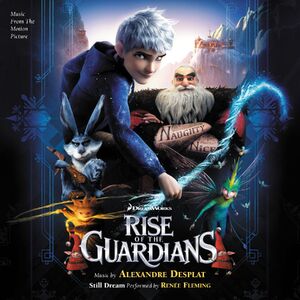 "Still Dream" is an end credit song composed by Alexandre Desplat (who wrote the score for the film), with lyrics by David Lindsay-Abaire (who wrote the film's screenplay) and performed by soprano Renée Fleming.[1]
About the Song
The idea for the Guardians came from Joyce's daughter, who asked him "if he thought Santa Claus had ever met the Easter Bunny." The film includes a dedication to her[2],as well a song, "Still Dream," sung over the end credits[3].
Lyrics
Time to close your eyes
Overlook the darkness
And try to dream tonight
Not so long ago
Your world was bright
So take a breath and count to ten
And maybe you can dream again
Still dream, and all the wonder that you knew
Will all come flying back to you
If you remember all the hope you left behind,
Open up your heart and change your mind
Oh, what you'll find if you still dream
Fly away, beyond the moon
A place you've been before
Castles made of sand,
A golden shore
And every wish you ever made
is marching in a dream parade
Dream, and dream again!
Do you remember building bridges in the air
Every hope you had and every prayer
They're all still there if you dream
Oh what you'll find if you dream!
Time to close your eyes
But when you awake,
Still dream
Music Video
References