This page lists all Rise of the Guardians toys released at fast food chain restaurants.
Carl's Jr.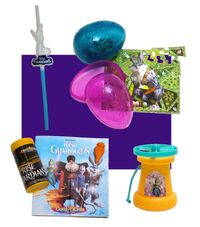 On February 25th, in celebration of the DVD and Blu-ray release of Rise of the Guardians, Carl's Jr. released four toys that would be available with the purchase of every Cool Kids Combos meal.[1]
Toys
Jack Frost Straw - Color changes when straw is placed in cold drink.
Sandman Imagination Tube - Tube includes two-sided activity sheet and character-sculpted crayon.
Bunnymund Egg - Egg comes in three different colors. Double-sided 5x5 puzzle included.
Tooth's Launcher - Pull string to launch flying disc.
McDonald's
McDonald's released a series of Rise of the Guardians toys that would be available with the purchase of every Happy Meal. It consisted of six toys, each coming along with their own guide, though in Australia and several other countries, the number was bumped up to eight.
Below follow several release dates:
United States of America: November & December 2012
Hong Kong: 23 November - 13 December 2012
Australia: December 2012 - January 2013
Austria: until 21 December 2012
Hungary: 30 November - 27 December 2012
Portugal: 7 December - 3 January 2013
India: December 2012
Toys
Jack Frost - Load a snowflake disc into Jack's staff and pull back on his spring-loaded waist to fling your own snowstorm.
North's Snow Globe - Press the button on the base to flip between the 2 images of North and the Yeti's. If you press fast enough the images will magically appear to be in the same scene!
Sandman - Sandy uses magical magnets to float and spin on his sandstorm base!
Elf - Press down on Elf's body to change his humorous, facial expressions! There are 3 different facial expressions to surprise you every time.
Bunnymund - Push the lever on Bunny's back to rotate his arm into position to grab the boomerang. Release the lever and Bunny flings the boomerang!
Tooth - Wind the spinning top onto the bottom of Tooth & press the button on her back to launch it. Keep pressing the button to manually flap her wings.
Extra
In Australia, 2 additional toys were added.
Tooth's Keepsake
Jack's Keepsake Box
Toy Gallery
Commercials
External Links
References
Community content is available under
CC-BY-SA
unless otherwise noted.