Isla Lang Fisher is an actress who began her acting career on Australian television. She was born to Scottish parents and raised in Australia. She is the voice of Tooth Fairy in the movie, Rise of the Guardians.
Biography
Personal life
Fisher first met English comedian Sacha Baron Cohen in 2002 at a party in Sydney, Australia. The couple became engaged in 2004, and wed on 15 March 2010 in Paris, France. The couple have two daughters: Olive (born October 17, 2007) and Elula Lottie Miriam (born August 2010).
Before marrying Baron Cohen, Fisher converted to Judaism, saying, "I will definitely have a Jewish wedding just to be with Sacha. I would do anything – move into any religion – to be united in marriage with him. We have a future together, and religion comes second to love as far as we are concerned." She completed her conversion in early 2007, after three years of study. She took the Hebrew name Ayala (איילה), the Hebrew word for Doe, and has described herself as keeping Shabbat.
Fisher has said that her "sensibility is Australian" and that she has a "laid-back attitude to life" that she feels is "very Australian." Her mother and siblings live in Athens, Greece, while her father divides his time between Frankfurt, Germany and Nicaragua.
Career
She began appearing in commercials on Australian television at the age of nine, before going on to win roles in popular children's television shows Bay City and Paradise Beach. At the age of 18, with the help of her mother, she published two teen novels, Bewitched and Seduced by Fame, an in a 2005 interview, Fisher admitted that had she not been successful as an actress she would probably have been a full-time writer. From 1994 to 1997 she played the role of Shannon Reed on the Australian soap opera Home and Away. In 1996, she won a Logie Award nomination for Most Popular Actress for her role. After leaving the soap, Fisher enrolled at L'École Internationale de Théâtre Jacques Lecoq, a theatre and arts training school in Paris and went on to appear in pantomime in the United Kingdom. She also toured with Darren Day in the musical Summer Holiday and appeared in the London theatre production Così. In 2001, Fisher was cast as Kim in the German horror film Swimming Pool.
She appeared on the short-lived soap opera Paradise Beach before playing Shannon Reed on the soap opera Home and Away. She has since been known for her comedic roles in Scooby-Doo (2002), Wedding Crashers (2005), Hot Rod (2007), Definitely, Maybe (2008), Confessions of a Shopaholic (2009), Rango (2011), and Bachelorette (2012).
In another voice-over role, Fisher voiced the character of Tooth (the Tooth Fairy) in the animated film Rise of the Guardians, which was released in 2012.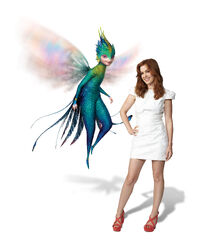 Isla Fisher is part of a stellar cast voicing characters in Rise of the Guardians, an animation adventure in which Santa Claus, the Easter Bunny, the Sandman, Jack Frost and Isla's fairy unite to fight evil Pitch Black. He wants to destroy Christmas and Easter and replace the innocent dreams of childhood with nightmares.
She is the voice of Tooth Fairy in Rise of the Guardians. The Tooth Fairy is the Guardians of Memories and her cartoon version is half-human, half-hummingbird. Isla said: "She's tiny, but with these gorgeous teal blue and green wings and big, big eyes. She's quite militant in the way she collects teeth but she has a soft side and gets extremely excited when she sees pearly white incisors."
The 36-year-old was delighted to join Hugh Jackman, Alec Baldwin and Jude Law in the big-budget animation feature because she is a fan of William Joyce's The Guardians of Childhood – the books the film is based on.
She also enjoyed the opportunity to tackle a role that did not involve a hair and make-up department. Isla said: "I am not a glam person in real life. When I do the school run, I am in my sweats." The actress, whose parents are Scottish, says there are distinct advantages in doing voice over work. She added: "You are in a sound booth, dressed in your sweat pants, getting to try a hundred different ways of doing something. If it doesn't work, they just delete it – so there is no fear of failure." When she met to discuss her portrayal of the Tooth Fairy, Isla – who was in London for the premiere on Thursday – wasn't clear about what sort of voice she'd be expected to deliver. The star, who grew up in Australia, said: "I specialise in silly voices so I was ready to do 20 options of ridiculous voices. But they said they just wanted me to do me but with an American accent".[1]
Trivia
Community content is available under
CC-BY-SA
unless otherwise noted.